Do you live in or own a company near McKinney, Allen, Plano, or the surrounding areas of Collin County? If so, the summer is finally here. We know that everyone wants to make their yard look as attractive as possible when the hot weather hits. They will be having people over for family events, barbecues, and parties. If you want to improve the look of your yard, it might be helpful for you to know more about landscaping. At All Starr Tree & Landscape, Inc. we provide you with the best landscaping maintenance. Whether you are looking for landscaping rocks, landscaping bushes, or another product, you can count on us.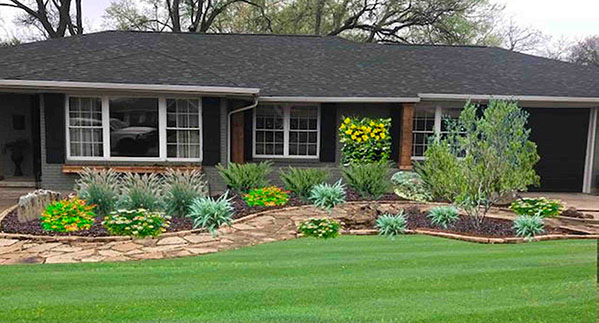 Colored Fence
Do you really want to do something that will make your front yard landscaping stick out? If so, it may be time to get a colored fence surrounding your yard. This will be a bold and attractive statement you can make for your home this summer. You can even have landscaping stones put all around the front of the fence to make an even bolder statement. Landscaping plants are another great option to put in front of bold, colored fences as well.
Shrubs
There are many different types of shrubs that look great in the local neighborhoods. When you are unsure of what lawn edging or shrubs to get, search for landscapers near me and talk to us about the best and most attractive shrubs for your yard. We have planted many shrubs and we are looking forward to working on your yard or property as well.
Lighting
What better way to end off your day than to sit on your porch and chat with your loved ones? You can do this and be more comfortable when you have the best landscape lighting in your yard. There are many beautiful light options that would make your yard look more attractive and make you and your loved ones feel safer as well. Contact us today to find some of the best landscaping lights for your property.
Retaining Wall
When you are looking for landscaping services, you can also talk to us about a retaining wall. These give you some privacy while still showing that your yard or property is welcoming at the same time. If you are trying to go for one of the most beautiful landscapes, you don't have to shy away from a retaining wall. There are many beautiful options available.
When it comes to your yard or property, there are many landscaping companies you could choose from to handle your landscape edging, landscaping trees, or other landscape plan. With that being said, you want to make sure you have professional landscaping services near me. With All Starr Tree & Landscape, Inc., you can get residential or commercial landscaping. In addition to front and backyard landscaping, we even have pool contractors and landscape drainage services. When it comes to your landscape maintenance, get the most beautiful and reliable options from us today.