All Starr Tree & Landscape, Inc. installs and repairs sprinkler systems for residential and commercial clients. We use only the best name brand parts, and all of our work is Guaranteed. We have the "Do it right the first time" attitude when it comes to our trade. Whatever your needs let us know how we can help.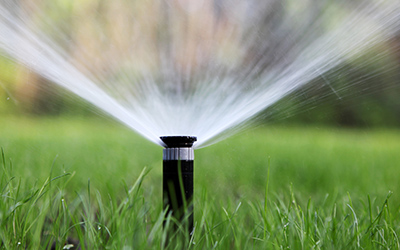 Our services include:
Repairs (broken heads, pipes, etc.)
Wiring trouble
Controller problems
New system installation
Pool re-routes
Rain/freeze sensors
ET controllers
Valve replacement
System check-ups
What is an ET controller?
ET is short for evapotranspiration, which is the amount of water lost from plants due to a combination of factors such as wind, temperature, humidity, and even daylight hours. ET data is collected from weather stations to adjust scheduling to actual local weather conditions. The weather station (installed at your home or business) simply collects the data, sends the information to the controller, which in turn adjusts the amount of water applied to the plant material. ET controllers will actually reduce water waste (runoff), allow deeper rooted plants (healthier), and reduce monthly water bills. Certain cities such as McKinney and Frisco have actually removed water restriction days and also have rebate programs for homes and businesses who have had ET systems installed by licensed professionals.
Contact us today and let our licensed technician go to work for you.
-James Starr
Texas Licenced irrigator #13574