Trying to enjoy the outdoors in the comfort of your backyard isn't as fun when the environment doesn't feel as inviting as you'd like. Redesigning the space may feel a bit intimidating, especially if you've never done it before, but there are plenty of easy ways to bring things to life without a long time commitment or breaking the bank. Easy Backyard Design Ideas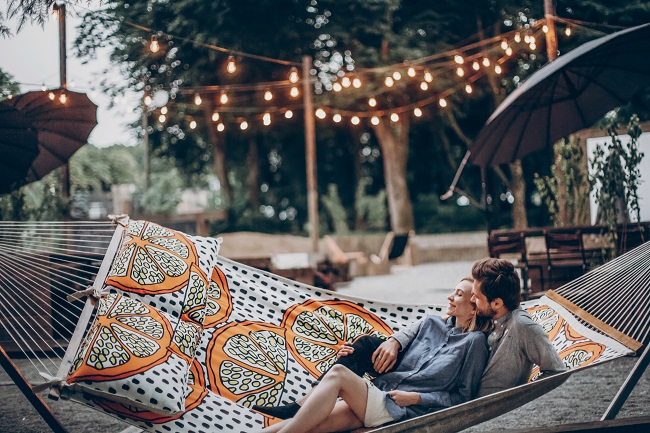 Add a Large, Outdoor Rug
If your deck or patio is lacking, spreading out this new splash of color makes it instantly inviting. To get the best effect, select a rug color which provides some good contrast without being glaring, yet also complements your house or deck color.
Hang Some Outdoor Lights
Nothing sets the mood or brings that cozy feel like warm lighting! String lights can be attached to your fence, the back of your house, or strung overhead. You can also have a professional install landscape lighting along paths and foliage for that beautiful, elegant look.
Add Potted Plants
Easy-care plants in large, colorful pots spaced around a patio, deck, or along a path bring loads of charm with very little hassle. Be sure to select plants appropriate to your region and the level of sunlight they'll be exposed to wherever you place them.
Install a Garden Path
This is something you can do with or without an actual garden. Measure the sections where you'd like to place your path, branching out wherever desired. By spreading wood chips over the area and lining your new path with border grass, you'll bring a smart design to your yard which doesn't call for a lot of maintenance.
Add New Furniture
Putting an outdoor table and chairs beneath your tree or on the patio allows you and your family to enjoy meals outside during nice weather. You can repaint your existing furniture to brighten it up, refurbish items purchased at a yard sale, or buy a brand new set to really make the place shine.
Repair a Thin or Bare Lawn
Your lawn is one of the most noticeable things about your backyard, so consider investing in a professional lawn care service. Let All Starr Tree and Landscape turn a bare or spotty lawn into a carpet of lush, green grass! Contact us today.