Our lawn maintenance service provides weekly, bi-weekly, or one time mowing for residential and commercial clients. We use commercial grade equipment, and our uniformed crews are courteous and sensitive to your needs. Our customers are conveniently billed at the end of each month by credit card payment.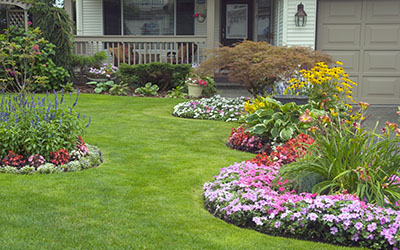 We also provide Annual Maintenance Programs customized each customers specific needs.
Our Basic Annual Maintenance service includes:
36 cuttings, line trim, edge, and blow clippings (bagging is an extra charge)
Shrub Trimming (4 per year)
Fertilize (4 per year)
Pre-Emergent Weed Control (2 per year)
Other services could include:
Tree Trimming
Bed Clean up
Mulching
Sprinkler System Check up
Sprinkler Repair
Annual Color
Contact us today for your free estimate!
*All landscape maintenance services that we offer are subject to sales tax according to the guidelines of the Texas Comptroller of Public Accounts