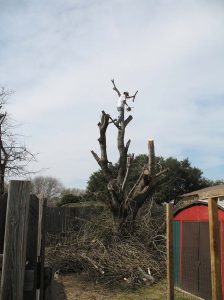 Tree trimming encourages proper growth. Some species of trees will require more trimming than others, but regardless of the intervals between the trimming, it is important that balance be maintained during trimming. Improperly removed larger limbs, for example, could result in an unsteady tree. Pruning that does not anticipate future growth could also lead to an unsafe tree down the road. At All Starr Tree & Landscape, we trim for beauty and future tree integrity.
From annual tree trimming and thinning to tree removals and stump grinding, we've got you covered. We take great pride in our work including clean up after the work is complete and the protection of your property. Not everyone sees trees in the same way. Tell us how you want your trees to look, and let our experienced crew do the rest.
Owner will oversee all jobs. We are INSURED for your protection.
Tree Services Include
Removals
Pruning
Thinning
Stump Grinding
Crepe Myrtle Pruning
Shrub Trimming
New Tree Installation
Contact us today for your FREE estimate.
Want to see some of our work? click here