As the mercury creeps downward from torrid to temperate, backyard entertaining becomes more popular. Adding a fire pit to the landscape makes enjoying your yard or patio feasible throughout the fall and even into winter.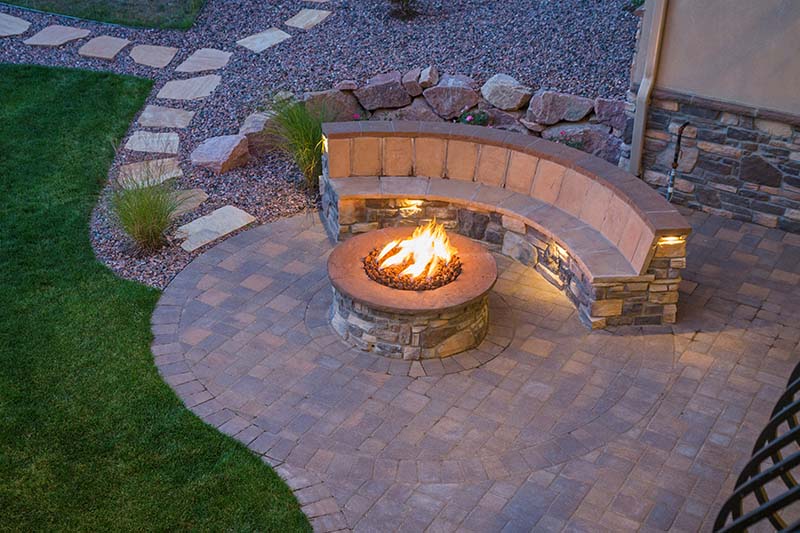 Fire pits are fixtures constructed of stone, brick, fiber cement or metal. Metal fire pits are freestanding furnishings that can be located on a deck, porch or patio. Stone, brick or cement fire pits are permanent hardscaping. Fire pits can be located in a cleared area of the yard or be affixed to a patio, pool or spa area.  Fire pits are normally fueled with seasoned firewood or charcoal briquettes, but in areas with limitations on burning, the fire pit can be plumbed with a natural gas or propane line for fires that are smoke-free and emit no ashes or debris into the air. For both aesthetics and to optimize heat radiation, gas fueled fire pits are often filled with colorful and decorative fire glass.
Installing a fire pit doesn't stop with building the structure, however. Some thought should be put into the greenscaping that surrounds your enclave. Obviously, trees and shrubs may be out of the question due to the extreme heat that the fire creates. However, there are options that will enhance the overall beauty and will also be safe.
Potted plants, especially those with white blooms or grey foliage, are very attractive additions to a landscape that contains a fire pit. The white of the flower or leaf reflects the fire's light and adds to the overall ambience. The moonflower (Ipomoea alba) is an excellent example. This night blooming cousin of the morning glory can be grown in a large container that has a trellis attached. Its large, fragrant blooms unfurl at dusk and remain open all night, looking like large moons floating on a green sky. Datura is another possibility, although not recommended for any household with children or pets as the plant is highly toxic.  A third possibility, although the flowers come in colors other than white, are four o'clocks (Mirabilis jalapa). These flowers are bushy and generally are covered in blooms from early summer through the first hard frost. They are also quite fragrant; their aroma hangs in the air on warm, humid nights. An extra bonus is that four o'clocks attract hummingbirds. Their dainty dancing-on-air antics will entertain in the early evening.
Potted vegetables are another possibility. Growing pots of cherry tomatoes, sugar or snap peas or other edibles allow your guests to forage while seated and enjoying the fire's glow.  Just add a favorite beverage and some napkins, and let guests serve themselves.
Whether you're planning new construction or wishing to renovate an existing landscape, adding a fire pit can add curb appeal and value to the property as well as create a lovely space for entertaining. Good quality construction is key, however.  Call us for design ideas and a quote to add a fire pit or other hardscape feature to your home or commercial property.