After a long hot summer, the welcome relief of cooler fall days beckons you outside to take advantage of the great weather. While you're surveying your yard, remember that fall is a great time to plant trees, and possibly create a little much-needed shade on your lawn. All too soon, the cold weather will again turn to warmer temperatures, begging the question, "where can I get some shade?" Well, answer this question by planning ahead and planting a fabulous shade tree. If you're not sure which shade tree to plant, don't fret, we've compiled a list of fast growing shade trees to help you survive the heat of next summer.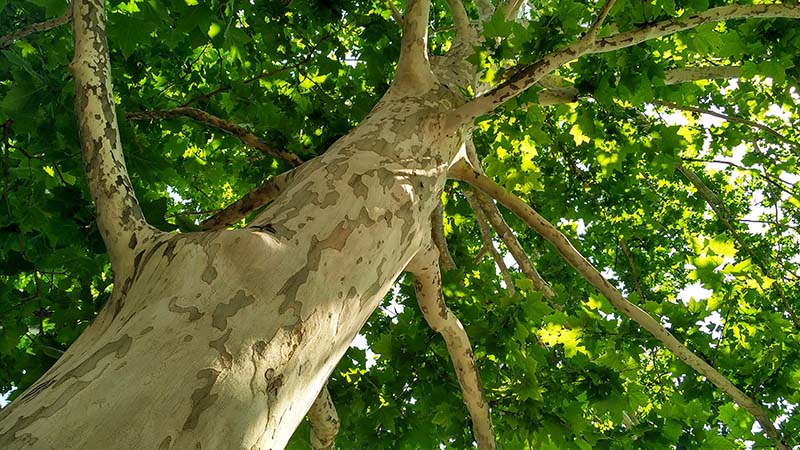 1. River Birch
This dramatic tree blends wonderfully into a woodland yard and looks best in groupings. It grows one to two feet a year and thrives in USDA plant hardiness zones 4-9. Add this birch for its shimmering beauty and its distinctive peeling bark.
2. Pin Oak
Perfect for smaller landscapes, the pin oak's unusual pyramid shape gives this tree a neat and tidy appearance. The pin oak produces dense shade and glossy green leaves that provide stunning fall color in scarlet and bronze. Look for over two feet of growth per year and plant in zones 4-8.
3. Eastern White Pine
This hardy pine, with soft bluish green bristles, grows 80 feet tall and provides ample shade and windbreak. Growing more than two feet a year, expect to enjoy a shady spot in your yard in no time at all. Hardy in zones 3-8.
4. Sycamore
If you have a large yard and need lots of shade, this is the tree for you. Its spreading canopy can grow to a height of 100 feet. Growing at a rate of two feet per year, its massive trunk peels and gets a distinctive mottled look as it ages. Hardy in zones 7-10.
5. Japanese Zelkova
This medium-sized shade tree opens up in an umbrella shape as it matures. The dense foliage provides ample shade. This sturdy tree is an excellent choice in urban settings as it tolerates wind, drought, and pollution. The zelkova grows one to two feet per year and is hardy in zones 5-8.
Research your site location and select a shade tree that thrives in your area, and you will be glad you did when the hot summer days arrive. If you prefer to leave the work to experts, contact us at All Star Tree & Landscape.