When people think of landscaping, they often think of basic lawn maintenance like mowing, weeding flower beds, and edging. Professional landscaping companies have a very large skill set outside of basic maintenance capabilities, however. One thing that landscaping professionals can help with is the proper installation of landscape lighting, which is become more popular as people become aware of the benefits associated with its use. Three of the primary benefits of using landscape lighting are detailed below.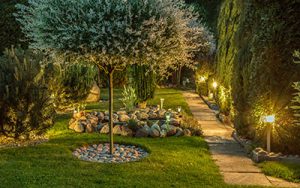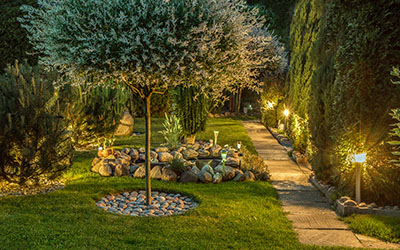 1. Home Security
A well-lit exterior can help to reduce the risk of break-ins, according to Protect Your Home. The reasons lighting is so effective is that it reduces anonymity, meaning that burglars feel there is a significantly increased risk they will be identified. Uplighting, which is used specifically to highlight your home's exterior, is particularly effective at increasing home security.
2. Reduce Yard Hazards in Low Light
Walking in your yard at night can be a hazard if it's not well-lit. Even walking to and from the car has the potential of causing injury from falls. Landscaping lighting can help solve this issue, and walkway lights are especially useful at reducing injury risks at night. Solar walkway lights are among the most popular chosen by homeowners.
3. Better Nighttime Relaxation
Nighttime is the perfect time to sit outside on your porch and enjoy some well-earned peace. It is natural to worry, however, when there are large portions of your yard you can't see. Relaxing is difficult when worried about your safety. A combination of walkway lights, tree lighting (sometimes known as fairy lights), and uplighting is most effective at increasing nighttime relaxation.
There are many reasons people should use landscape lighting, but the three benefits listed above are among the most prominent. For more information on landscape lighting or other professional landscaping services, contact us today.