All Starr Tree & Landscape is a locally owned and operated full-service landscape company servicing Princeton, TX and the surrounding areas. We offer lawn care, landscaping, sprinkler, and tree services for residential and commercial clients. Our landscapers specialize in top notch customer service where you will meet the owner on site. The goal with each project is to build long-term relationships with our customers through trust and honesty. Whatever the job, you can be sure that you will receive the proper advice and guidance along with quality work.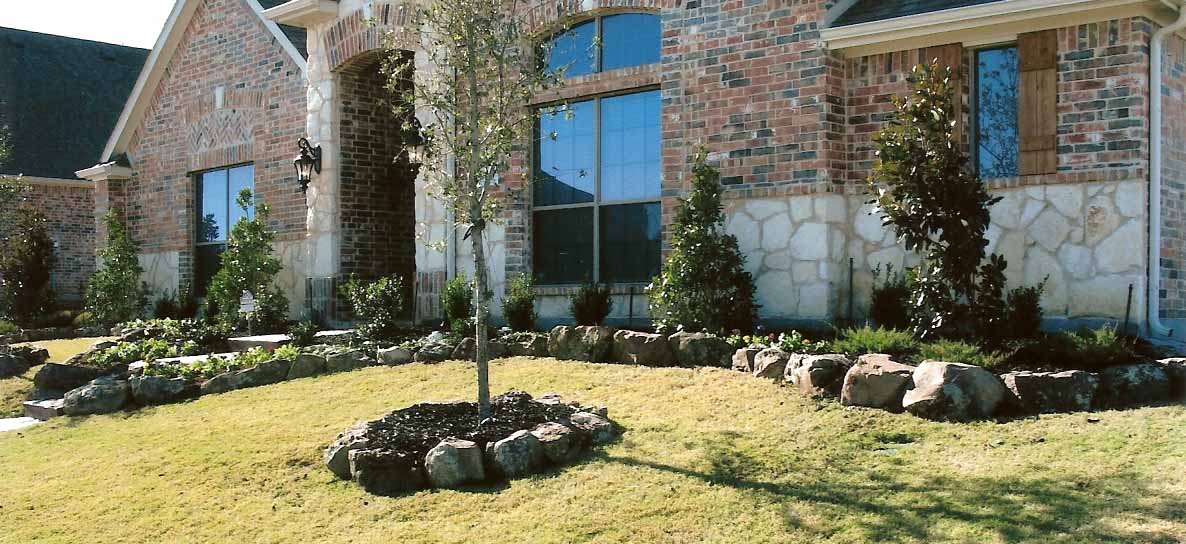 Princeton, TX Landscaping Company
All Starr Tree & Landscape offers full-service landscaping services at a reasonable price. From new landscape installation to remodeling your existing landscape and all things in between. Landscaping is an investment that can completely change the overall look of your property. At All Starr Tree & Landscape, we are here to help protect that investment!
Landscape Design
Our high-quality landscape design services will help enhance your environment, combining practical and aesthetically pleasing elements that brings your space to life. All Starr Tree & Landscape will work with you to develop a custom 3D design so you have the ideal landscape and outdoor living strategy, but are allowed to develop your property in phases or throughout seasons if needed.
Princeton Tree Trimming Services
From annual tree trimming and thinning to tree removals and stump grinding, we've got you covered. We take great pride in our work including clean up after the work is complete and the protection of your property. Not everyone sees trees in the same way. Tell us how you want your trees to look, and let our experienced crew do the rest.
Irrigation & Sprinkler Repair
We install and repair sprinkler systems for residential and commercial clients. Our irrigation technicians use only the best name brand parts, and all of our work is Guaranteed. We have the "Do it right the first time" attitude when it comes to our trade. Whatever your needs let us know how we can help.
Drainage Solutions
We offer professional drainage solutions in Princeton, TX. Our team can find a solution for any drainage problem around your home or office. Not only do our solutions preserve the beauty of your surroundings, but they also take into account potential problem-causing factors in the existing environment, such as poor soil, leaves, debris, and/or excessive rainfall. Our drainage solutions can withstand the test of time.
Give us a call today to learn more about our Princeton, TX landscaping services or to schedule an estimate!
---
Frequently Asked Questions
What are the types of landscaping?
All Starr Tree & Landscape offer services such as Sod Installation, Drainage Solutions, Rock Features, New Plants, New Trees and Sprinkler Repair.
Why is landscaping important?
Landscapes and features are important because they contribute significantly to our well-being and quality of life. Living within aesthetically pleasing and culturally meaningful landscapes enhances our sense of well-being. As a homeowner, you are looking for ways to gain the best benefit for your investment. When you landscape your yard, you can rest assured that your investment will increase your home's market value. Home buyers are usually willing to spend more on a house if it has professional landscaping, both front and back.
What are the benefits of landscaping?
Grass and trees provide cooler temperatures as well as provide a natural source of oxygen for the air and water in the area. Lush landscapes act as storm water runoff buffers, reducing the flow of sediments and pollutants to nearby bodies of water. In effect, plants help filter out pollution from the water on its way to a city's source of drinking water. Woody plants along shorelines also reduce erosion and flooding downstream.
Landscapes offer economic benefits as well. Did you know that businesses that have high-quality landscapes tend to be more successful? It's true! Customers claim to spend more money on goods and services if the commercial building has a high-quality tree canopy; and shoppers say they're willing to travel longer distances to shop in a district with better landscaping. They also say they stay longer once they arrive if the landscaping is peaceful.
Contact us today to learn more about our landscape services!